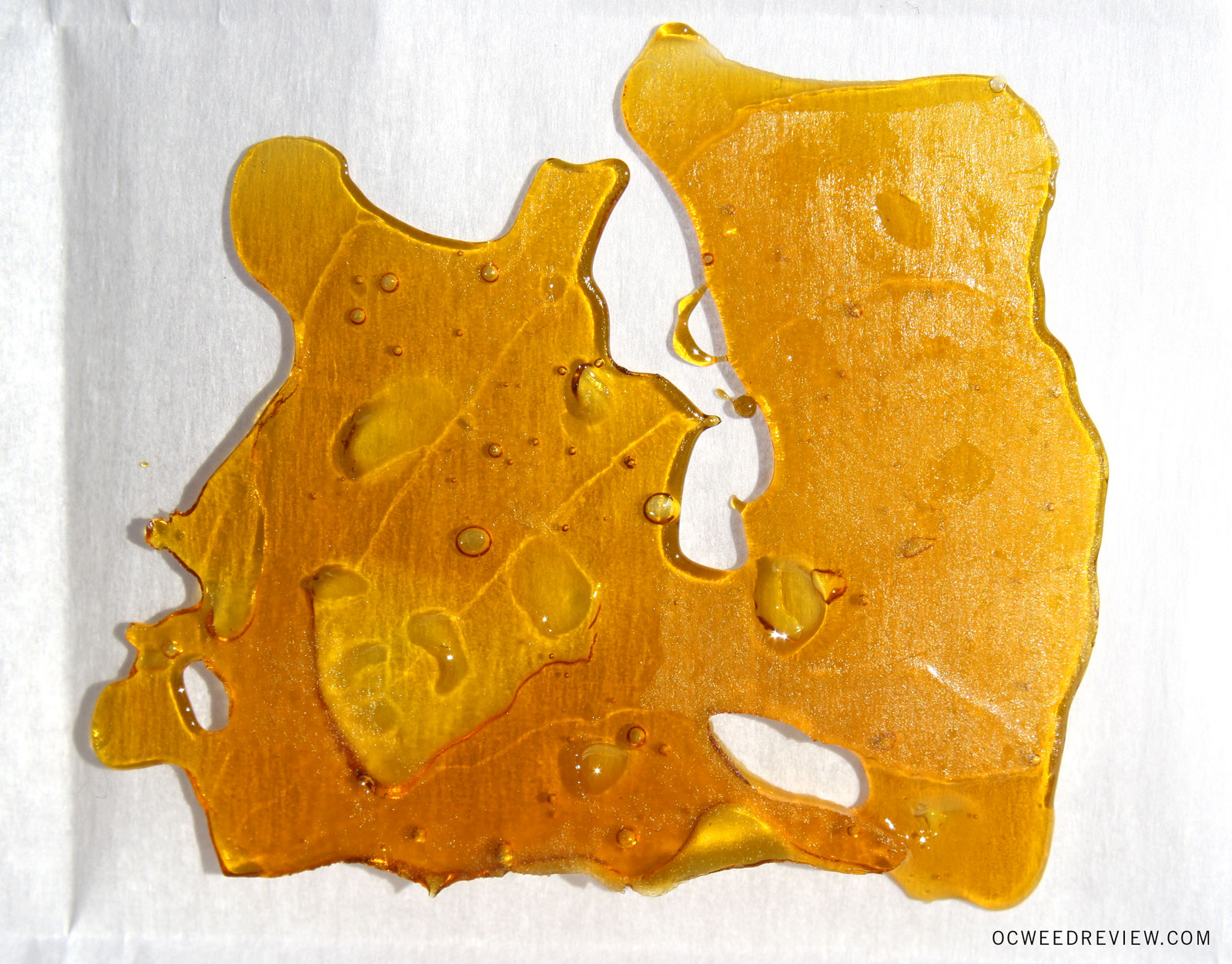 When I think of Maui Blue, my mind wanders to sun-drenched beaches awash with wave after wave of cerulean-blue water.  Of course, I've never been to Hawaii, so I have no idea what it actually looks like.  However, everyone in my family besides myself owns a timeshare on Kauai.  Through the years, there has been no shortage of stories of its inspired loveliness, but this loveliness comes for a price.  Now that I've found this 78% THC Maui Blue shatter from Kush Extracts, though, anywhere I session becomes my own personal paradise.
The first thing I noticed about this extract was the gorgeously glowing light amber color.  It was unlike any shatter I had seen before.  It was such a golden orange hue that it seemed to glow iridescently through the parchment paper in which it came wrapped.  When the light, any light, hit this shatter, it lit up in aesthetically interesting ways.  I could have photographed this strain all day long.  But eventually it was time to tear it apart for reviewing.
Dabs of this Maui Blue released really flavorful vapor.  Even if you aren't for low temp dabs, this one is worth the complex taste.  The dark berry terpene exists in spades from the Blueberry, but it is equally matched by Maui Waui's acidic lemon and fragrant pine.  It had a sweetness though, typical to both strains, that I enjoyed through every hit.  Kush Extract's shatter was also easy to dab over long sessions.  I'm a cougher, but I noticed no irritation or fatigue in the lungs.
This Maui Blue hybrid is perfect for those looking for a nice sativa lean.  I've always loved the Maui Waui high, dominant in this extract, ever since I first reviewed it.  It is energetic and purposeful, and I noted its tendency to promote creativity.  I took a gram with me out to Joshua Tree and went wandering among the rocks.  The mostly cerebral high increased visual and aural stimuli, making for a heightened experience.  But don't be surprised if the Blueberry sneaks in to knock you flat.  A base in many of my favorite strains, Blueberry is a solid indica offering both pain relief and a body buzz bordering on physical euphoria.  While testing this shatter, I took more than my fair share of unscheduled dab naps.  Overall, though, Maui Blue is an effective daytime sativa high, great for depression, that also brings with it a tangibly comforting physical sensation.
Available at:
One 10 Club
110 N. Tustin Ave.
Anaheim, CA