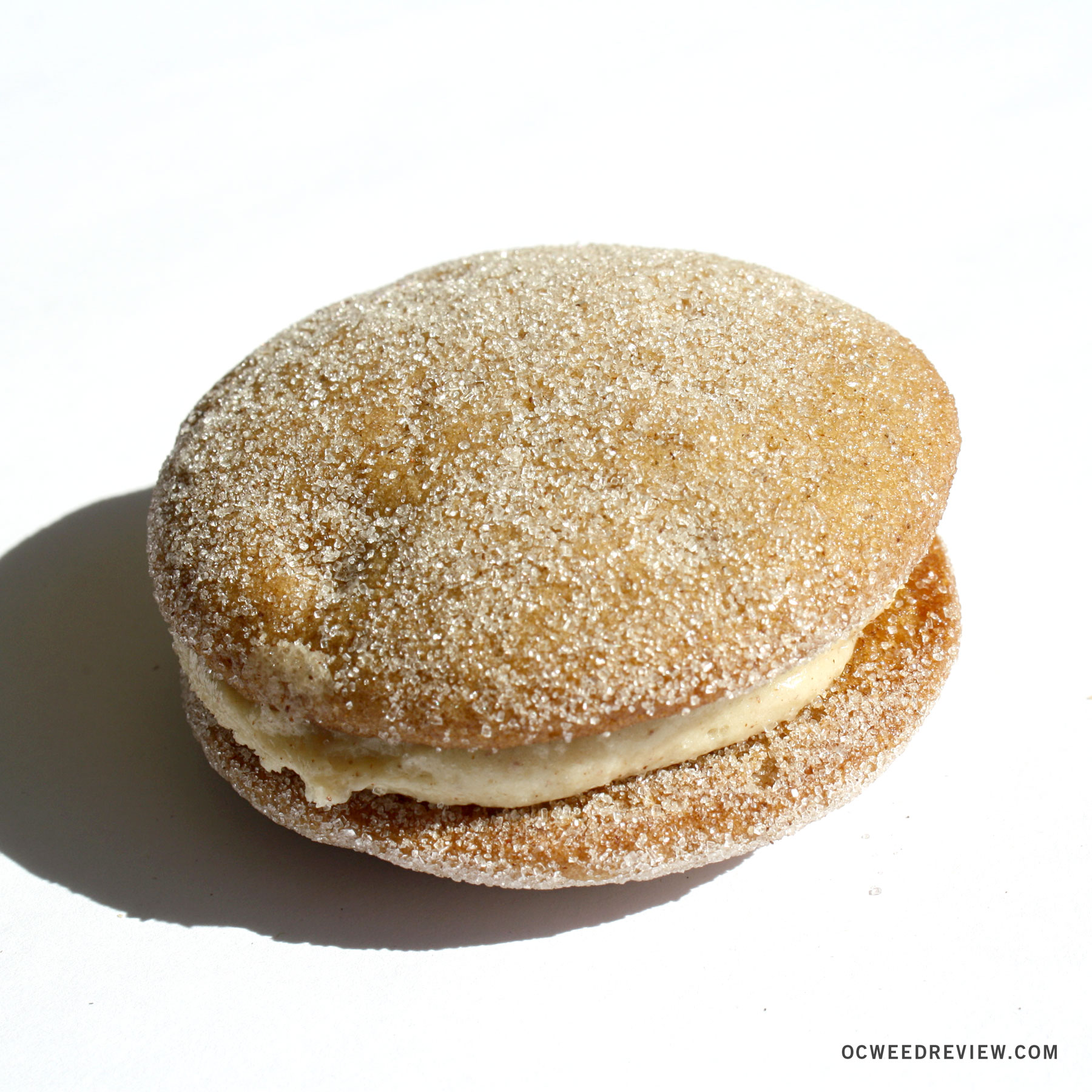 My mother loves whoopie pies.  I just learned this recently.  And having never seen her eat one, it confuses me.  Not because whoopie pies aren't delicious; simply because I can't picture it.  But why not?  Who wouldn't love a frosting filled cake sandwich?  However, one thing I can confidently bet on is that she never had a whoopie pie like this one from Miss Mary Jane's Edibles — and not just because it is medicated.  Essentially a cross between a whoopie pie and a churro, it combines the best of both treats.  You get to eat a fluffy whoopie pie without walking into a Walmart to buy one, and you get to enjoy the sugary cinnamon sweetness of a churro without spending the $96 to get into Disneyland.
These Chronic Churros are a classic whoopie pie, but with a cinnamon twist.  The light, cakey pieces are moist and fluffy, like a well made old fashioned doughnut, and are coated in a crystaline combination of cinnamon and sugar.  Sandwiched in between these sides is a soft, flavorful cinnamon-buttercream middle.  The whole deal is just a bit bigger than a macaron and is flatter, lighter, and more sweet.  I took to eating mine with a rich cup of coffee late in the day for the perfect flavor match of bold and candied.  Not having much of a sweet tooth myself, even I found it difficult to pass up an opportunity to take a break and enjoy a Chronic Churro.
With just under 70 mg THC and over 2 mg of CBD, these Chronic Churros make for a serious body high that leave you spacey, as an indica will.  An amature patient will want to split these whoopie pies into 5 or more doses, while more moderate users will be able to tackle half the edible or more.  The indica leaning high is electric in the body buzz but keeps away from any over the top cerebral high.  Expect tons of physical relaxation and a lessening of tension in the shoulders and neck.  I medicated with one late in the afternoon after a long day of sativa dabs, and there was a full body euphoria that built as the mental sativa effects subsided.  I would strongly recommend these treats for moderate joint or muscle pain, as well as an effective sedative for PTSD or anxiety's physical symptoms, without leaving you couch locked.