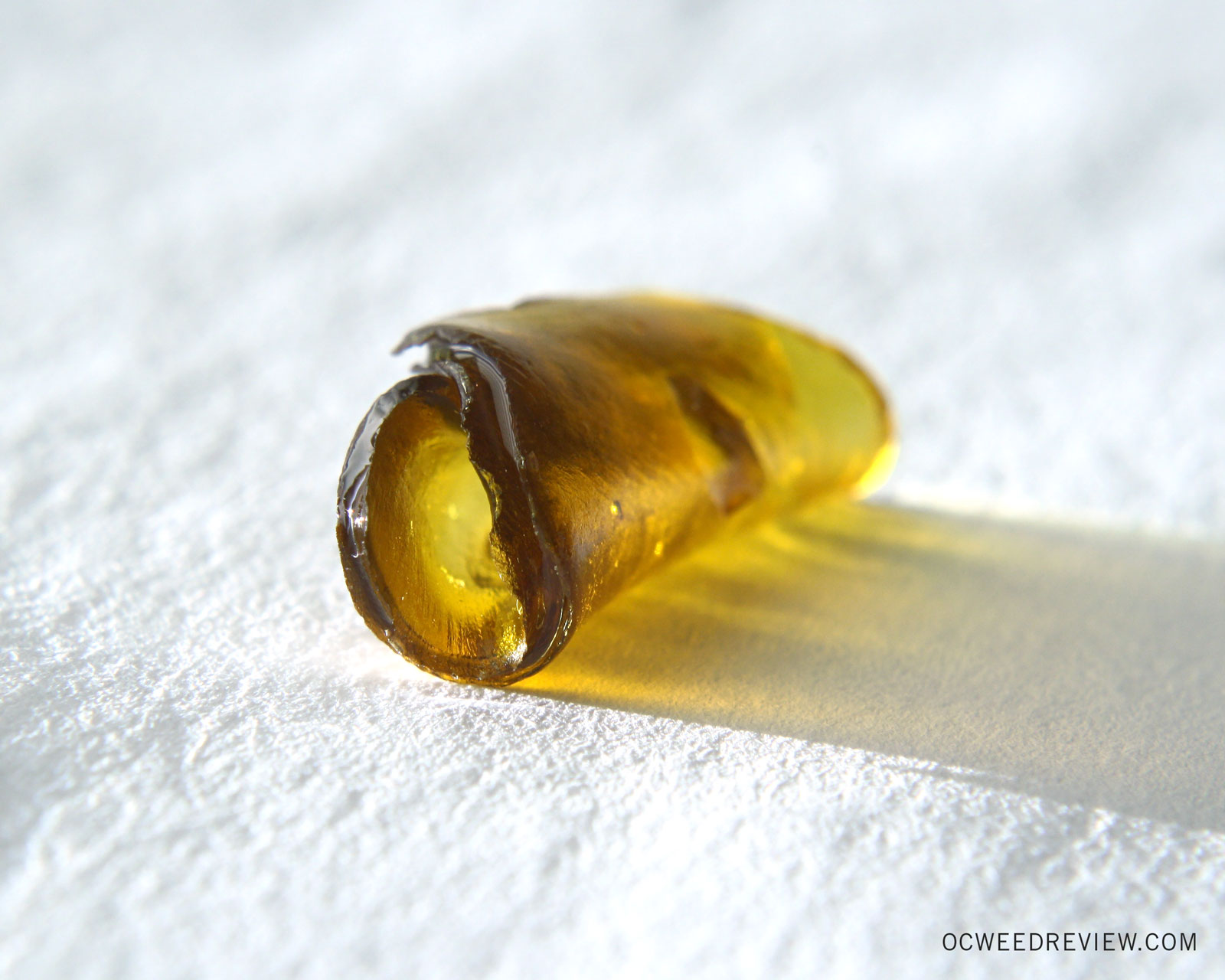 A phenotype of the ever popular OG Kush, SFV OG brings with it a vividly radiant high.  Like driving down a wide boulevard in a convertible while the warm sun flashes through the palm trees, everything about this gorgeous shatter is intrinsically SoCal.  From my wake n' bake in the morning to sundown dabs, I managed to fit in a session with such a perfect SFV OG all day long.  The first outing I've tried from Foundation Extracts, I'll be sure to keep my eye out for them in the future.
This rock hard and glassy shatter was as pure a specimen as I've seen in the shops, so be sure to warm up your tool before trying to pull off a dab.  Otherwise, you'll end up with tiny SFV OG shards all across your table.  A luminously light yellow color, I captured one of my favorite shatter pictures on the site during the photo shoot for this sample.  Natural sunlight poured through this extract like a Louis Comfort Tiffany stained glass window, and it remains in my mind as a significant yard stick against which to measure in reviews to come.  Low temp dabs open up the flavor profile of sweet, incense like earthiness.  I found it to be incredibly flavorful, with a sour citrus aftertaste, and the smell left behind in a room after dabs of it was better than any $28 Yankee Candle.  Aesthetically, this shatter was one of the finest I've had cross my desk.
SFV OG is a surprisingly capable member of the OG family, especially as the high builds.  Beginning with an uplifting rush, eventually you mellow, melting slightly after the peak.  The change is subtle but enjoyable.  An up and down strain, each dab session is a journey that typically leaves you right with the world around you.  Ever present with these dabs is that fantastic SoCal relaxation common to OG Kush.  But don't underestimate it, as it lacks nothing in terms of potency.  It can be stoney and dazed after a particularly large dab, requiring a moment to get your center back.  Overall, the mark of a good product is whether I'd get it again, and the answer here is a confident affirmative.
Order this and other extracts from Strictly OG.