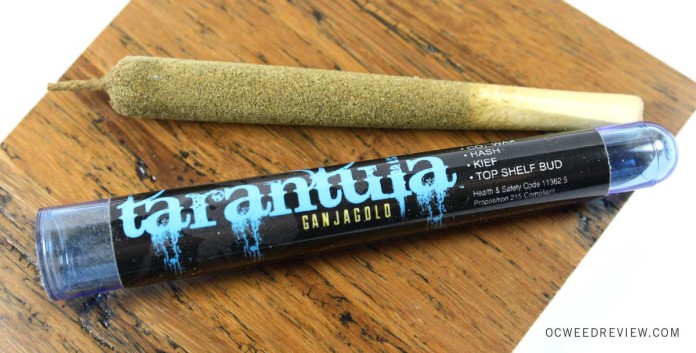 Ganja Gold is back with another classic strain, Girl Scout Cookies, to give the connoisseurs treatment in their exquisitely hand-rolled joints.  The pre-roll for people who truly care about what goes into their joints, these Ganja Gold tarantula joints start with the most stringently selected cannabis buds.  These are combined with powdery kief and CO2 oil to produce one of the best engineered smoking experiences on the market.  Pull one of Ganja Gold's pre-rolls out at a party to impress your friends with the intense high these fuzzy joints provide.  
A truly Californian strain, this hybrid of OG Kush and Durban Poison is an earthy sweet smoke that leaves users euphorically happy.  Here, a top shelf representation of Girl Scout Cookies is skillfully rolled into a cone by Ganja Gold and infused with CO2 oil and coated in kief to complete the effect.  The final result is a complex and potent joint that will excite even the most discerning smoker.  Providing a smooth, even burn every time, Ganja Gold has become my first choice in pre-roll.  
Girl Scout Cookies has been known across California for years for its incredible relaxation.  Hazy and slightly numbing, it is the type of anti-stress, pro-happy strain that this work-a-day world often demands.  This is in large part thanks to the OG Kush in its genetics.  However, the cerebral intensity from the Durban Poison gives this strain usefulness for depression as well, and I've often medicated with Girl Scout Cookies for all day relief.  
For more information, visit Ganja Gold online.