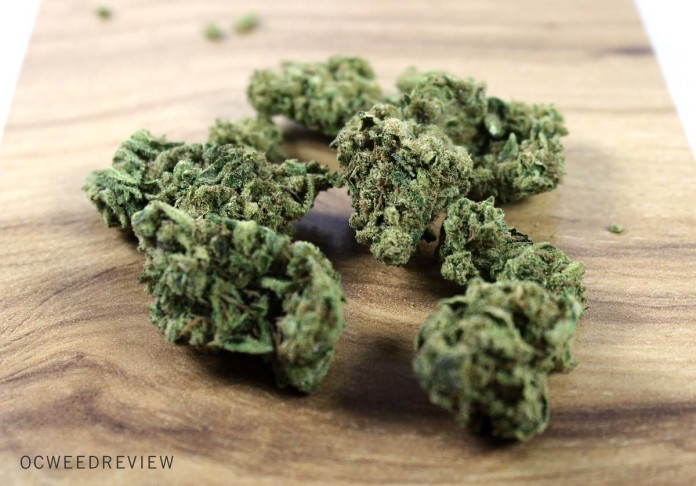 When one thinks of cannabis, one's mind does not immediately settle on England.  With its misty weather and short growing season, it hardly seems like the type of place for a renowned cannabis strain to originate.  However, it was nearly 30 years ago in a counter culture community in the south of England that this Skunk #1 cut first came to prominence.  Now, UK Cheese is ubiquitous among cannabis communities the world over and is to England as Sour Diesel is to NYC and OG Kush to California.  
The buds in our sample were lumpy, thick, and dense, making them ideal candidates for the pipe or bong.  Lacking in the stickiness and strong terpy scent of some strains, the sensory elements of these nuggets were none-the-less spectacular.  I've heard a range of descriptions for the signature UK Cheese scent, from cheddar to parmesean and all the cultured milk products in between.  However, it is important to remember that this is no more than Skunk #1 in its genetics, so expect something skunky and even pungent.  Ours had the slightest hint of dark, overripe berry to add an additional layer of sweet funk.
As mentioned above, UK Cheese is a phenotype of Skunk #1 that reaches back beyond the 90's to find its origin.  Skunk genetics draw from the original Afghani, Mexican, and Colombian land races and allow for a hearty balance of effects.  Users often recount rushing, purposeful sativa effects that can also manifest as a thoughtful, creative high.  I found it best for uplifting mood enhancement without the letdown, making it an effective daytime treatment for depression without triggering a patient's anxiety.
This and other high quality strains are available at Hand n Hand Patient Care.