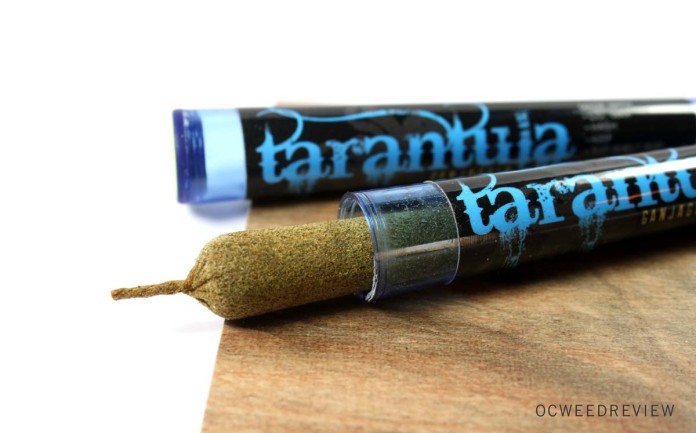 Imagine for a moment a joint filled with the choicest top-shelf flower selected in one of the strictest processes we've seen.  These remarkable buds are then infused with CO2 oil and rolled in golden kief.  No.  This little cone of perfection is no dream.  Ganja Gold has been making some of the best pre-rolls in California by hand for years now and does so again in this Jack Herer tarantula joint.
Ganja Gold's exquisitely rolled cone joints burn slow and smooth, giving a refined smoking experience that stands out among the competition.  Far and above from the typical pre-roll, even just the sight of a Ganja Gold tarantula joint is enough to prove its superiority.  The potency afforded by the high quality flower is clear from the moment the joints are lit.  There are no sweet candy additives here.  With the richness of the smoke from the kief and oil, only the piney wood came through from Jack Herer's flavor profile, making for a mature, sophisticated joint for the true connoisseur.    
Jack Herer, being more than just a legend in the cannabis community, is a soaring sativa strain respected among patients.  A Haze, Northern Lights, Shiva Skunk hybrid, Jack Herer is known to provide a mood altering high.  Purely uplifting, Jack furnishes a feeling of overall wellness and happiness to the patient's core.  Problems melt away along with physical stress, making this a great relief for depression.  Users also report an increase in creativity, probably in part due to Jack Herer's cerebral effects, which light up the senses and make the world engaging and interesting again.  
For more information on Ganja Gold's products, visit their website.