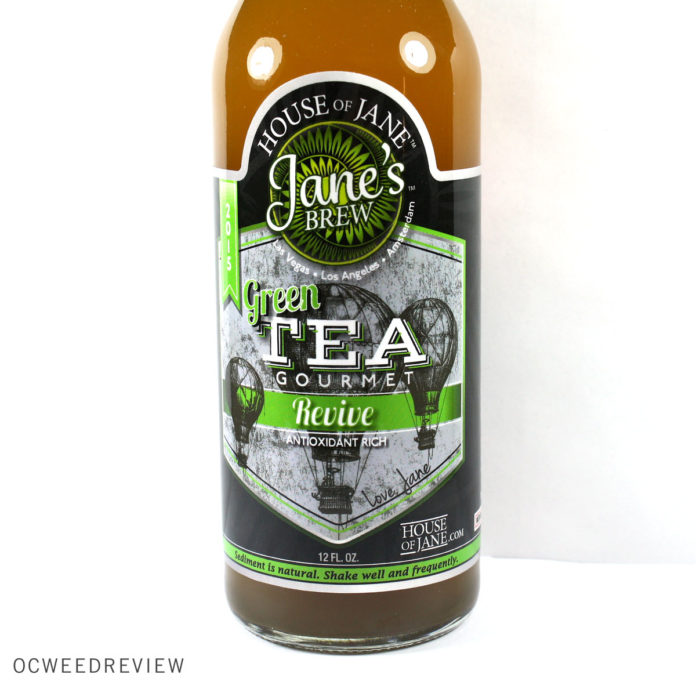 More and more, cannabis is being considered a wellness product, aimed at homeostasis and general health. So it makes little sense to put medical marijuana in fatty, high calorie treats like candies and brownies. House of Jane addresses this by infusing THC into antioxidant-rich green tea for a more healthful medicating experience.
House of Jane's Revive green tea starts with purified water and whole leaf green tea. This wholesome base is then infused with cannabis and lightly sweetened with organic pure cane sugar for a flavorful, all-natural THC beverage.
Served ice cold, Revive is a sweet, easy drinking tea for those hot, thirsty SoCal summer days, but it makes just as much sense paired with your lunch or sipped while on the go.
Each bottle comes printed with a best by date and a batch number to ensure an optimal experience, and the use of multiple labs for testing by House of Jane verifies accurate potency numbers and product purity, a point we can't reinforce enough as our industry continues to legitimize itself.
Each bottle of Revive green tea is infused with 80 mg of THC. While those accustomed to heavier doses should be ok drinking the whole bottle, if you are measuring it into individual doses, be sure to shake the bottle vigorously first for even potency in each serving. I left mine in the fridge and just took a few gulps every couple hours for lasting medication all day long. Regardless of how you chose to enjoy your Revive, delicious and consistent medication is just a sip away.
Visit www.janesbrew.com for more information or to find House of Jane products near you.