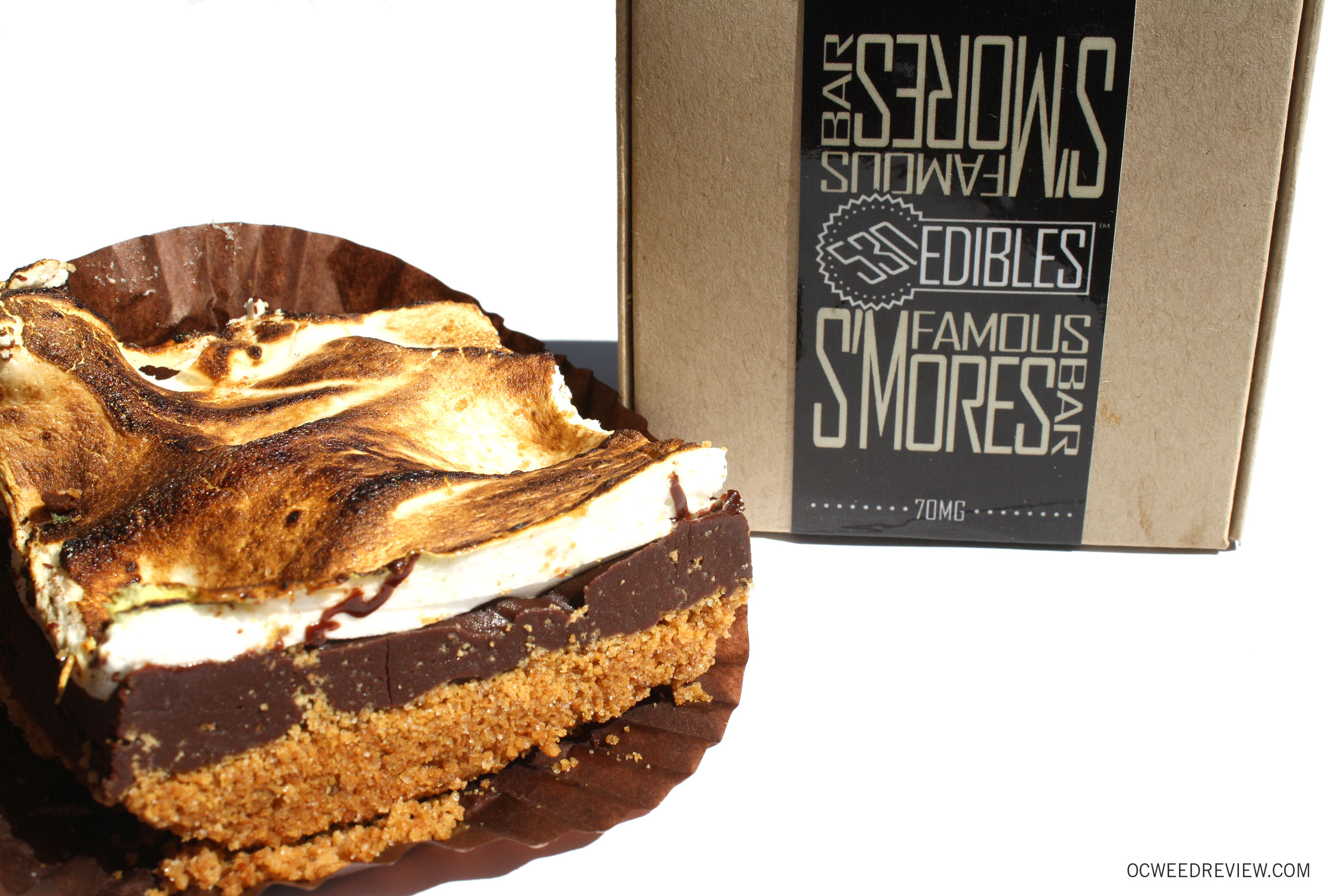 I spent several years in my youth as a Boy Scout, and all of those nights in the woods were passed by the fire making this camp staple.  The sloppy deliciousness that is a s'more is hard to duplicate when not made over a roaring fire.  However, 530 Edibles went beyond trying to copy this treat and instead raised the bar.  When you first open the box, you are greeted by perfectly toasted marshmallow staring back.  Removing it from the box reveals the dark chocolate middle and the graham cracker crust.  The smell alone when unboxing this masterpiece makes me long for chilly autumn nights and a popping and crackling fire.
Once removed from the box, I was a bit unsure how to tackle this rather intimidating edible.  You may want to plan on sharing this treat; although it was labeled at a consistent 70 mg THC like the rest of their edibles, it was by far the largest medible that 530 Edibles passed on in their samples.  I ate the first one cold, fresh from the refrigerator.  I ate it daintily with a fork because I was in public, though it would probably be easier to just dig in with hands and teeth.  The second sample was consumed after being warmed slightly, making it even more gooey, which is really the point of a s'more anyway.  Be careful though because 530 Edibles informed us that heating it will cause the THC to be absorbed faster.  Good advice for those looking for quicker relief out of their edible.
The first thing you notice in this treat is the fantastically rich and bitter chocolate used in the center.  The same chocolate used in 530 Edibles' other treats, it possesses a rare blend of equally smooth and spicy flavors.  The cracker crust crumbled easily, regardless of whether it was served warm or cold.  But it was delicious, and I found myself picking up and eating the crumbs with my fingertips.  As mentioned above, the coup de grace of this edible is the toasted marshmallow topping.  The sensation of pulling the perfect marshmallow out of the fire just at the right moment is one we have all had snatched from out of our grasp by an unforgiving flame.  530 Edibles guarantees this feeling time and again with their perfected torched s'mores.
As with most edibles, the first manifestation of the high is heady and uplifting, offering a social mood elevation.  Then you begin to feel it in the limbs, warm and relaxing.  Your eyes may become tired and red, and the high is not real active — even a bit locking.  But overall it provides an explorative, inquisitive tone.  Pondering and thoughtful about all things, it is the cannabis equivalent of sitting around a bonfire under the stars, far from civilization and chatting with friends, a warm blanket wrapped around you while you repose near the glow of the flames.
To order email 530 Edibles at orders@530edibles.org