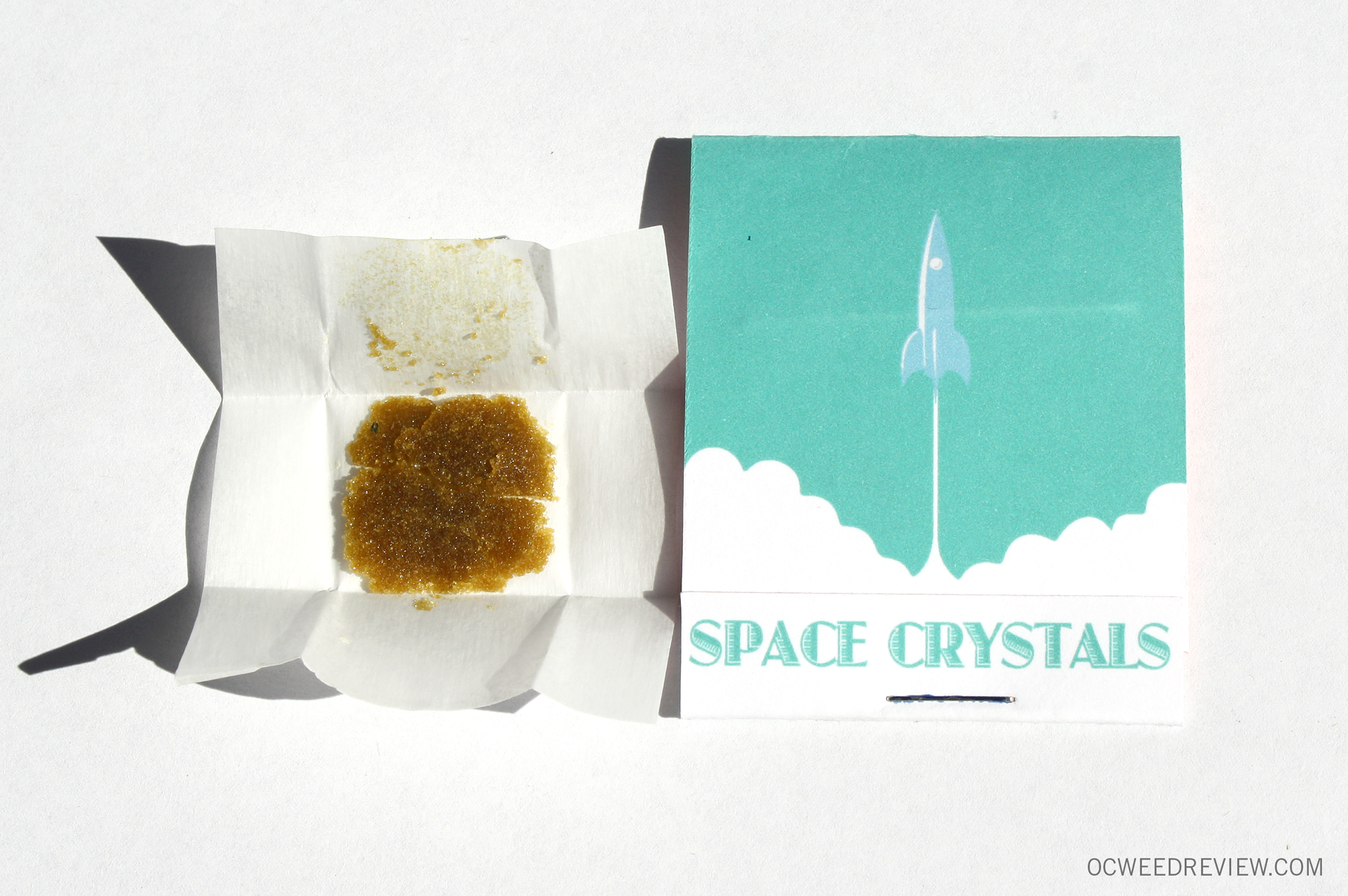 My twitter, instagram, and facebook feeds are clogged with extractors claiming to make the best concentrates in SoCal.  So it is always with a grain of salt that I field these assertions.  However, Remington Extracts don't just boast quality; they back it up.  With test ratings from SC Labs of over 90%, this Sour Diesel x OG hybrid is even higher than their OG that we reviewed at 88%.  Combined, these two samples make for some of the most excellent dabs I've had this year.
Remington Extracts' Space Crystals come in a matchbook that folds over a miniature baggy containing your medication on parchment paper.  Inside the cover are the SC Labs test results and a mission statement of sorts.  I was thrilled by this packaging, being a bit of a design geek, myself.  It was both visually interesting and technically intuitive.  Plus, it stands apart from the sea of cardstock envelopes I see at the shops.
The extract itself is a warm honey mustard color.  Solventless extraction makes for a perfectly crystalline consistency.  And with Remington Extracts, it is always easy to pull off dabs, even when it gets hot out, which is plenty here in Orange County.  These Space Crystals were an incredibly easy vape on the domeless —  fluidly smooth with nearly no irritation.  The pungent fuel of Sour Diesel largely overpowers the earthy OG scent.  However, no cannabis enthusiast would turn away from the unique Sour Diesel profile, and low temp dabs of this extract help reveal its taste.
These dabs instantly create an incredible head rush.  I had been testing some low quality wax earlier in the day, but two dabs of this extract had me knocked.  Yet while the OG Kush is mellow both in body and disposition, the Sour Diesel keeps the high lively and creative.  It is rare that I can write a full review under the influence of its subject, and often I'm stuck taking vague notes while medicating to be written up later.  However, with this hybrid, I was able to concentrate and was motivated to complete my work, despite the relaxation provided by the OG.  As I stated above, this was one of the finest dabbing experiences I've had all year, and I will recommend these Space Crystals to everyone I can.
Order yours from Strictly OG.