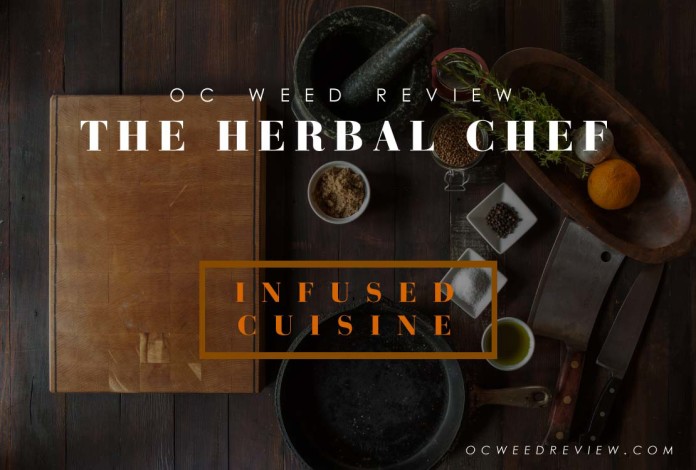 For the longest time, cannabis and food meant skunky brownies and rice krispy treats, made at home or bought out of the back of a van at the Phish show.  However, as the industry matures, they are slowly learning that you can put cannabis in just about anything that uses butter or oil, opening up a world of infused culinary possibilities.  This, of course, culminates in the work of Christopher Sayegh, The Herbal Chef.  Creating fully serviced multi-course, cannabis infused meals, he is putting a whole new twist on the catered dinner party.  
Coming from a family that embraced cooking and eating together, a career as a chef was a natural undertaking for Chris.  However, it wasn't until his technique was hardened in the kiln that is the kitchen of a Michelin rated restaurant that Chris became the chef he is today.  Training extensively under James Beard Award winning head chefs, the gratifying experience is recalled fondly by him as, "the hardest time of my life."  Since then, Chris has been bringing his skill and passion to medicated fine dining, cooking under the Herbal Chef brand for the past six years.  
Preparation for Chris's meals begins months in advance with visits to the event's location to begin searching for his ingredients from neighboring farms.  Truly adopting a locally sourced attitude, Chris pulls his seasonal menus from the event's surrounding area to put the diner in touch with the region.  Ingredients not obtained locally are brought in from carefully selected vendors, such as certified Wagyu beef from Japan, fine imported caviar, and prized truffles.  Doing whatever it takes to craft the perfect culinary experience, Chris is not above foraging for his own culinary elements, including perfectly paired wines and liquors from Napa and beyond.  
Each The Herbal Chef meal is customizable, though Chris works best when kept off a tight leash.  Surprising even the pickiest of palates, he uses his extensive training in taste and texture to craft adventurous menus, often featuring methods that Chris himself refers to as avant garde.  Even just a glance into his favorite courses reveals this bold spirit: options include fennel panna cotta, apricot gele, and smoked pepper; locally sourced seasonal vegetables, basil and cayenne oils, and a mozzarella "cloud"; or leg of lamb, escargot, foraged mushrooms, and an arugula "moss".  Creativity in craft and presentation allows Chris to conceive breathtaking meals.  The dinners themselves can be medicated at varying doses for individual guests, meaning everyone at the table is able to enjoy the entire meal, regardless of their tolerance level or usage.  
From planning to execution to cleanup, Chris and his team take care of everything, leaving guests to enjoy the experience worry free.  The Herbal Chef events include an educational session about cannabis dosing and edibles, pairing information about wine and liquor choices, and detailed descriptions of each course, making these catered dinners accessible to all levels of patient, regardless of their experience with either cannabis or cuisine.  
For more information or to book The Herbal Chef for your next event, visit theherbalchef.com or follow on Instagram @the_herbal_chef.