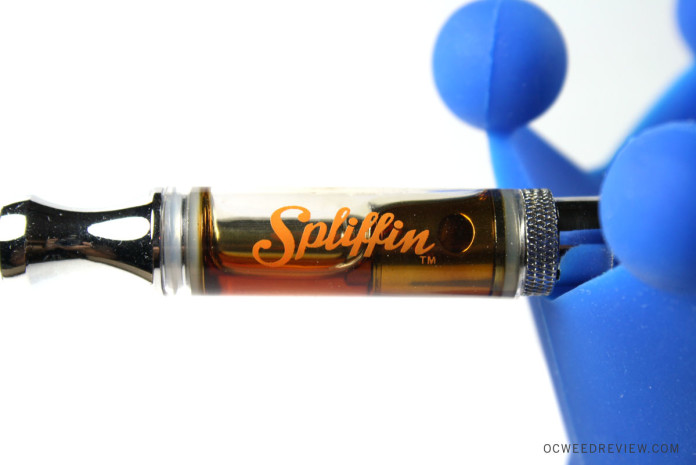 Tangie is one of the darlings of the cannabis industry right now, with patients going crazy for both its unparalleled taste and its potent effects.  Award winning as a flower, she now holds sway as one of the most flavorful extracts on the market, dominating runs here in Southern California.  In this review, Tangie is featured as one of the select strains in Spliffin's discerning lineup of flavors.
Spliffin' is fast ruining me for all other vape companies, and not just because of their excellent extracts.  The key reason for my fondness is their solid construction.  Using stainless steel and tempered glass, their cartridges have proven themselves durable and reliable time and again.  Neither worried about it leaking in my pocket or breaking in my backpack, I can treat Spliffin's pens any way I choose and know it will start when I want a hit.  
I would be remiss if I didn't spend time discussing the famously sweet orange flavor of Tangie, captured perfectly by Spliffin' in their extract.  Slightly sour in the exhale, the taste is abundantly zesty and proves itself more than just a candied orange.  It is complex and unforgettable, a must try for any sativa fan.  You haven't truly experienced a terpy flavorful hit from a vape pen until you've tried Splifin' Tangie.  
The oil in this Tangie pen was thinner and less viscous than some of Spliffin's other strains.  This made for a more consistent vaping experience overall and left me getting huge clouds of flavorful vapor from start to finish.  Spliffin's Pure line uses nothing but pure extracted oil, refusing to sully their gorgeous product with nonsense fillers.  The result is a top of the line vaping experience, about as near to a dab as you can get from a pen.
Tangie creates one of those pointedly cerebral highs.  Highly sensory in its effects, lights, colors, sounds, and sensations all became crisper and more elegant.  Despite this stimulation, I still found it purposeful enough to make it a work-a-day strain.  The high even hit a manic rush at times reminiscent of Strawberry Cough.  Thankfully, this is reined in by its slight indica influence, which helps it be relaxing enough for you to overcome stress.  Perfect as a daily grinder, I could vape Spliffin' Tangie all day without feeling hindered.  
For more information, visit Spliffin.com