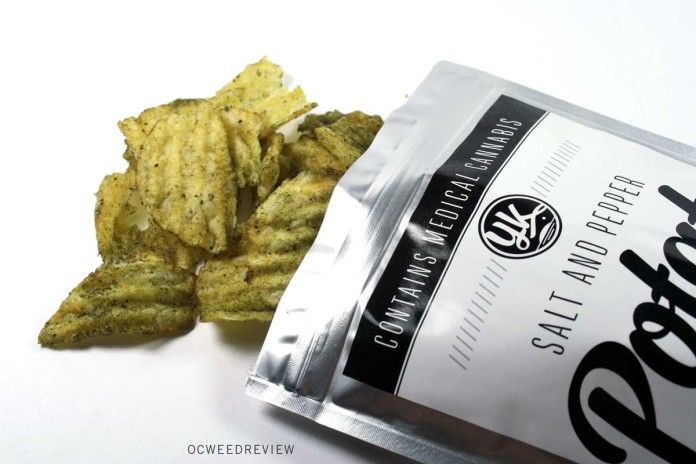 We first met up with the Yummi Karma gang at a recent event, during a panel called "Edibles with Integrity", where they presented their business as a model for safe and consistent edible manufacturing.  Highlighting many of the characteristics we promote here at the Review, Yummi Karma brings together quality ingredients, detailed packaging, and reliable potency in each and every edible they produce, making them a safe choice in the sea of edibles available.
Yummi Karma's medicated potato chips are made all natural with real potatoes cooked in vegetable oil and seasoned subtly with salt and pepper.  The rippled chips lacked any intense cannabis taste, despite the chips' noticeably green color and, at times, slightly soggy texture.  Tasty alone as a snack and delicious as a complement to your meal, these Yummi Karma salt and pepper chips are a savory way to take your medication.
Each 1.5 ounce bag of chips contains a total of 50 mg of THC, a considerable potency for the package size.  I ate my sample bag with a meatball sub for lunch, even placing some chips on the sandwich itself for a flashback to my favorite schoolhouse meal.  The absorption of cannabinoids into my system was slowed because I ate my chips with a hearty meal.  The peak took just over an hour to arrive, but the bright and cerebral high lasted well into my afternoon.  
Visit Yummi Karma for more information.