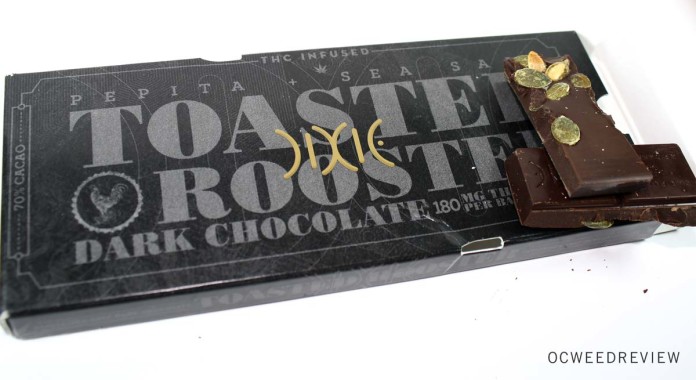 The Review has become ever more impressed with the Dixie line of products as we continue to interact with them during their foray into the Orange County market.  The edibles we have reviewed so far have defied our expectations of Dixie as a brand, and this Toasted Rooster Bar is no different.
Much of this excitement starts with great packaging.  But I'm not talking about the slick branding and design.  I'm talking about the child proof element added to it.  Two plastic push tabs will help deter prying fingers and increase the safety of the edible. Along with this feature, Dixie adds "born on" and "best by" dates, ingredients, dosing suggestions, and even estimated activation time.  In my opinion, Dixie hits all the checkpoints for packaging modern cannabis edibles and should serve as a goal for other brands as California nears more universal regulation.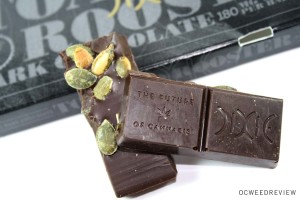 All the flash and dazzle of product safety means nothing, of course, if the edible inside doesn't measure up, so Dixie includes the finest ingredients to enhance your experience.  The savory roasted pumpkin seeds make the edible unique, but it is the chocolate that wins the day.  At 70% cacao, it exists in that happily accessible place where dark chocolate is a complex and decadent treat but not too bitter to enjoy.  Dixie lists an estimated 60 minute activation time, but letting the smooth chocolate sit in your mouth can speed this with sublingual uptake's faster pace.  
The Toasted Rooster bar doesn't shy away when it comes to potency either.  With a rousing 180 mg of THC in the bar, high tolerance patients will enjoy its strength, while the minimal 15 mg per section makes it useful for beginning patients as well.  With its range of effects, quality ingredients, and ease of dosing, Dixie's Toasted Rooster is the edible for everyone.
For more information, visit the Dixie website.