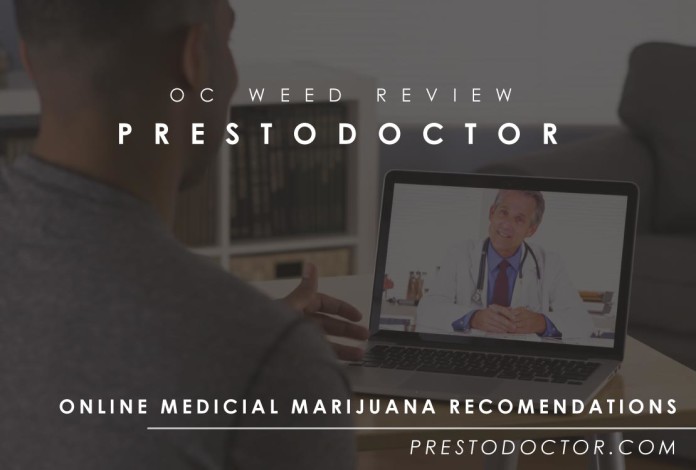 Every year it's the same thing.  Drag myself 50 minutes to my doctor and wait another hour or more to finally have time made for me for a brief face to face with a doctor too busy to be bothered.
But not this year.  This year I visited Presto Doctor online and saved myself the time and the stress of going out.  
A completely online service, one of the first things you notice about the Presto Doctor website is its easy to navigate interface.  Everything you need to get your recommendation is right there on the front page with intuitive prompts pointing you along the way.
First things first, you need to fill in your personal and payment information.  This is as easy as on any other website, and Google auto-completed most of it.  As I worked my way through, I had a quick question about the process, which presented the perfect opportunity to test the in-site chat function.  I opened the chat window and typed my question, receiving a response in about half a minute.  Kyle on the other end was friendly and knowledgeable, giving me the exact answer I needed to complete the enrollment procedure.  
After I was entered into their system, I clicked through to set up my appointment and was surprised to find a choice of three doctors with available times that same day.  Same day appointments with my own general practitioner are simply unheard of.  If you have a busy schedule, Presto Doctor also offers openings on nights and weekends too.  I reserved an open spot just 40 minutes later, giving me plenty of time to load my appropriate documents and test my hardware before for my appointment.
In order to attend your video chat with your doctor, you will need a computer with a webcam and mic or a similarly equipped smartphone.  I received an email ten minutes before my scheduled time, and then a text 5 minutes later to serve as a reminder to get online, which is helpful if you lose track of time the way I do.  I clicked away from the work I was doing and back to prestodoctor.com in time for my scheduled slot.
I entered the video chat first, but my doctor logged on a minute after.  He started our session by thanking me for taking the time to complete the registration process, which in reality was much quicker than at a traditional doctor or even a brick and mortar "recommendation farm".  We then settled into what was a true consultation with a qualified doctor — not just an expensive signature.  He asked me to describe my arthritis pain, and we talked medicating options like topicals and edibles for pain management and combining cannabis with painkillers for more severe pain days.  Then we discussed the usefulness of CBD for the physical symptoms of anxiety and stress.  Our session ended with a few non-intrusive questions about my cannabis use, as well as my health and my habits.  Then my doctor clearly explained what to expect next and when to look for my recommendation in the mail.  The whole appointment took no longer than ten minutes but was far more helpful in learning ways to manage my symptoms than a time consuming trip to my usual doctor ever is.
I had been putting off renewing my recommendation this year, looking to avoid the annoyance it can cause.  However, from beginning to end, my experience with Presto Doctor was straight-forward and professional.  And I didn't even need to put pants on.  
The $69 fee includes all of Presto Doctor's services, and there are no hidden fees to worry about unless you opt for expedited shipping.  After you complete your session with your doctor, you will receive a printable pdf version of your recommendation that is great for the modern delivery services out there that prefer electronic recommendations.  In 3-5 days after your appointment, you will get your paper recommendation and an NFC-enabled ID card.  Faster shipping will cost you more.  
An online doctor service makes perfect sense for the multitudes of handicapped cannabis patients who have difficulty travelling long distances or even leaving their house to get to a doctor.  It is also a great solution for professionals who need to remain discreet about their medicating or those with social anxiety who prefer to stay at home and away from crowds.
I would personally suggest Presto Doctor to any medical cannabis patient after my own experience.  The online format makes it a convenient choice, while the professionalism displayed throughout the organization immediately separates them from typical cannabis doctors.  
If you are interested in seeing if cannabis will work for you or need to renew an existing recommendation, visit prestodoctor.com to get started.