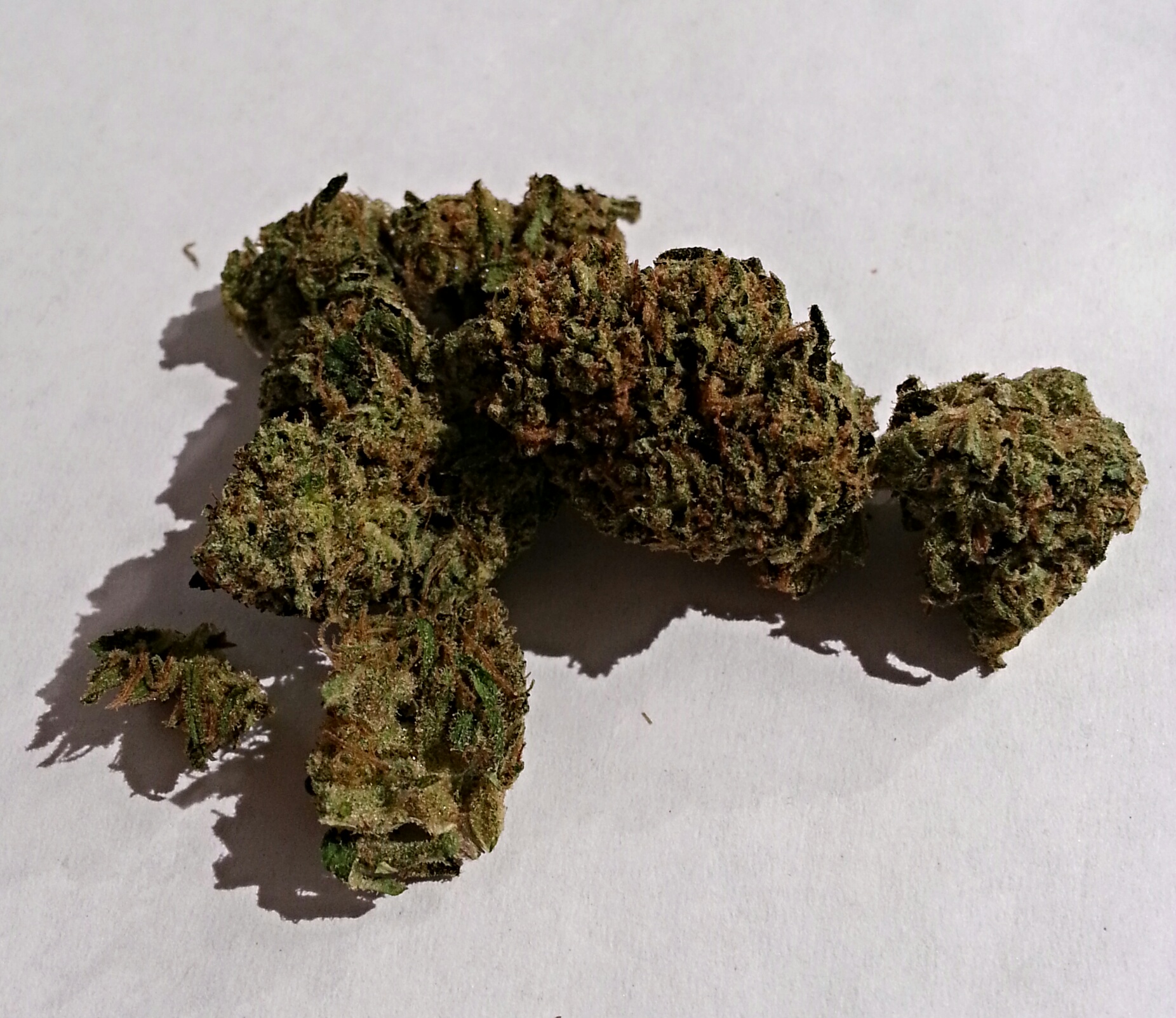 Hash Plant as a strain is rarely seen alone and, instead, finds itself creating a base in some of the most popular indica strains on the market.  The genetics are handed down from a dense Afghani mixed, most likely, with Northern Lights, creating a 75/25 Afghani influenced hybrid.  I had been on the look out for a pure Hash Plant for a rather long time, so when word came around that a new dispensary in Garden Grove was carrying it, I prepared for a visit.  One of the first things I noticed when I checked for Hash Plant on Diamond Grove's menu on Weedmaps was that they needed to move it over a shelf.  While they had it listed as a sativa, Hash Plant is really an indica.  And what an indica.
Sticky and fresh and dense as indicas can be, Hash Plant lets off a lot of skunky resin in the smell from jar.  Once torn into, the scent becomes spicy.  There is also a strong flush of firewood ash in its aroma.  Many don't care for the taste of Hash Plant.  Those people are mad.  Like a smoky scotch, it sometimes takes a certain refinement to enjoy.  To me, it is reminiscent of the teak panelling and leather furniture in the smoking room of an old English social club.  The smoke is thick and resinous and nearly yellow in appearance.  There is a certain toughness of character needed to smoke a long session with this indica, like gulping back a burning whiskey.
Hash Plant has a very narcotic high.  It didn't prove to be real productive, especially as it kicked in to its fullest force.  I tend to smoke my bowl a hit or two at a time while I work, and Hash Plant pretty quickly shook me up.  It wasn't that I was unable to work; I just lost the will power to want to work.  There was a significant drag in the face and head and strong body relief, making it perfect for pain management or migraines.  After struggling with anxiety and realizing my sativas weren't helping, I turned to the sedation effects of Hash Plant, and my physical tension, previously wound tight, was quickly eased.  I've also been looking desperately for a cure for my insomnia lately, and I may just have found it.  If you are even standing near a bed and it's dark out, you might fall asleep.  As far as medical effects go, this is a truly versatile strain.  
Every once in a while, I come across a strain that is so useful for such a variety of symptoms, that it simply makes sense to keep some around at all times.  Hash Plant very well may become for you one of those strains.  
$50/ eighth
Diamond Grove
13892 Harbor Blvd. Suite 4-A
Garden Grove, CA
(currently closed for relocation)