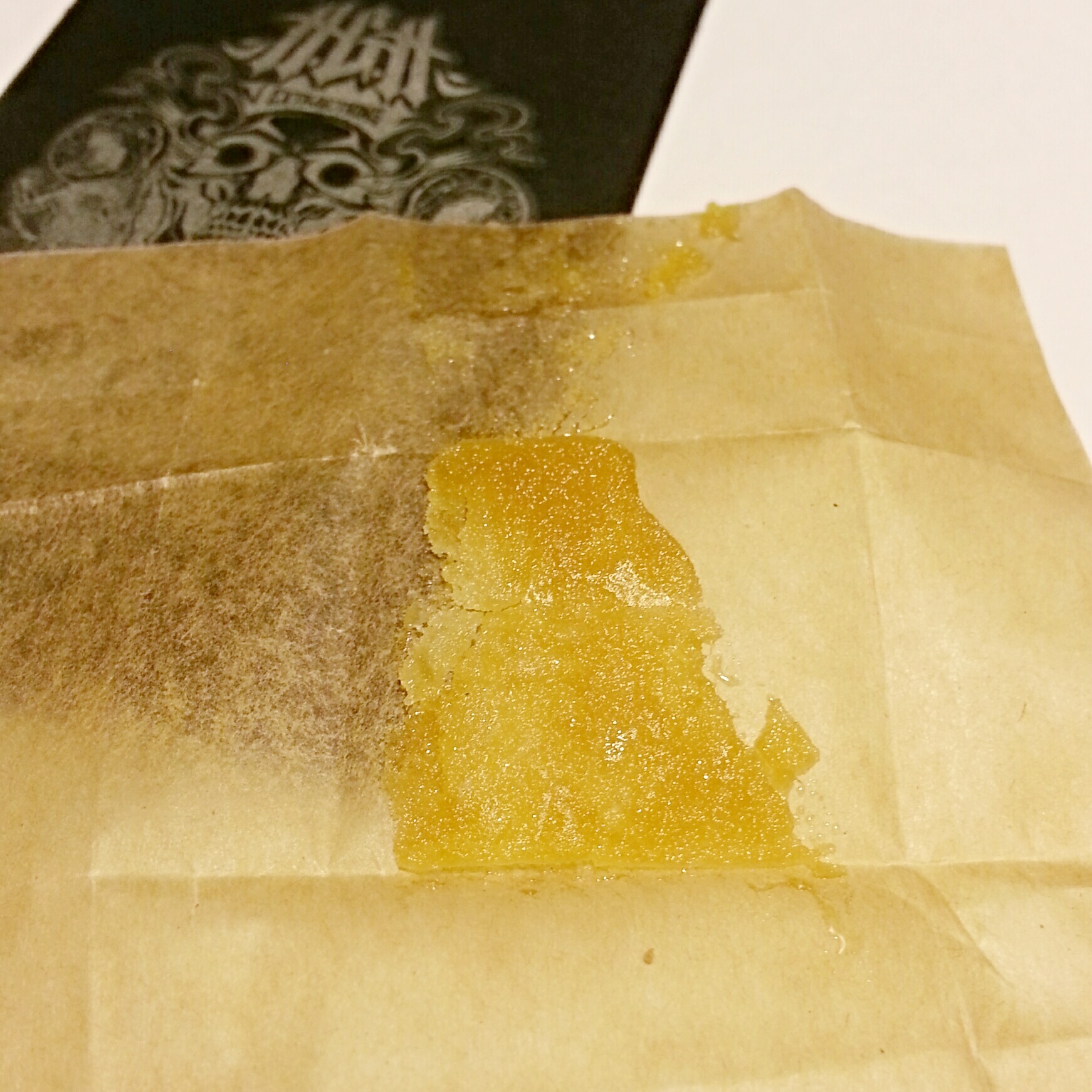 HGH has been coming at us with some crazy mashups in their concentrates, drawing on an assortment of positive medical effects.  This shatter contains a laundry list of popular strains, each focusing on a soft, well rounded high.  Firstly, let's consider the GSC and Thin Mints controversy.  Fur often flies when the topic of the "original" cookies strain comes up.  HGH avoids this debate by giving us both the sweet GSC and the minty Thin Mints phenotypes.  Adding loads of Durban Poison and OG Kush to the extract from these two strains gives plenty of mellow and enlightening effects, giving a sense of immediate inner peace.  To this, San Fernando Valley OG incorporates its own OG Kush influences, making this nothing more than a complex layering of Durban and OG.  Not that anyone is complaining.
This sample was cloudy by the time I got to it.  However, this was completely my fault for not checking it out at the shop, but it speaks volumes for keeping back stock in a fridge.  And even though it had none of the luster and appeal of a golden shatter, it shimmered in its own right, even as it crumbled in my Oil Slick jar.  This extract was not real vaporous; offering a slow melt, rather than a cloudy burst like some shatters.  This made me feel like I needed to use more than I did, which means I rushed through my half gram and more often than not ended up way more medicated than I needed to be.
First off, this shatter vapes smooth as hell.  It immediately slows you way down when dabbed out big, putting you in slo-mo.  I found myself spaced out and locked.  Almost too high for another dab–almost.  The high also seemed to build over time, adding to the high well after the initial rush.  This gradual come on got me in trouble once or twice.  This combination of instant rush and protracted peak left me faded and unable to do much of anything but enjoy the medication and feel better.  As a side note, this concentrate left me with voracious munchies, making it an effective treatment for digestive symptoms or those who have diminished appetites.