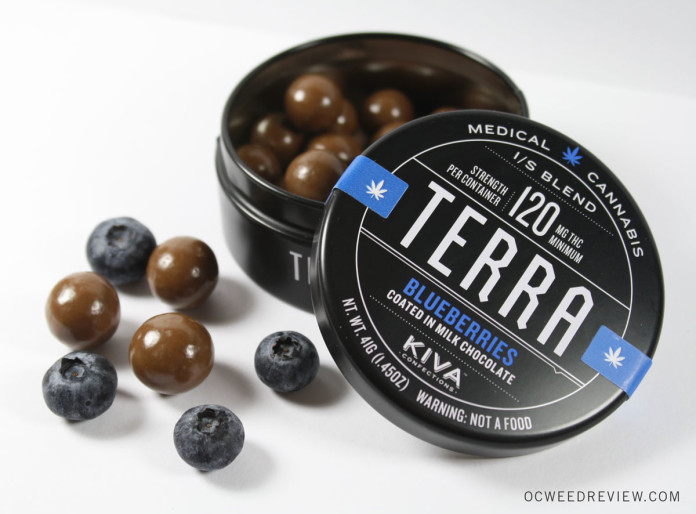 Kiva Confections hosted the most impressive booth at the recent Cannabis World Business Expo in LA.  Resplendent in richly colored wood panelling and sporting the atmosphere of an exclusive boutique shop, the booth attracted visitors in droves, including yours truly, to sample their world-class chocolate and was a solid expression of Kiva's brand at the Expo.
Here at the Review, we have been enormous fans of Kiva since our earliest days, regularly buying their tangerine chocolate bars from the now extinct Second Story dispensary in Santa Ana, so it comes as little surprise that we were just as pleased with their Terra Bites chocolate covered blueberries as with their chocolate covered espresso beans from our previous review. 
One of the chief reasons for our love of these Terra Bites chocolate covered blueberries is their consistency, not just tin to tin, but from blueberry to blueberry.  For those patients who need low dose solutions to their medicating needs, Terra Bites are just what you are looking for at 5 mg of THC each.  Higher dose patients will also enjoy the ease of precise dosing these edibles allow.  Regardless of how many you enjoy at a time, you can trust in proper dosing in every bite.
The next factor to be considered, of course, is the Kiva chocolate's taste.  As they were featuring at their well conceived booth, the chocolate used in their medicated bites and bars is decadently delicious and velvety smooth in the mouth.  A complexly flavorful creation, these Terra Bites start with dried blueberries generously dusted in cocoa powder.  After a layer of white chocolate is added, they are dusted again with raspberry and blueberry powder before a final layer of polished milk chocolate completes the effect.  Deceptively simple in appearance, the patience and attention to detail presented in these Terra Bites will keep you craving them again and again.  
The low THC content per bite-sized piece means more control over your medicating.  At 5 mg of THC per bite, even beginners with the lowest tolerance can medicate safely with Terra Bites.  And at 120 total mg of THC per tin, there is value for the low dose user.  Those of us with higher tolerances will have to munch on quite a few more to reach our desired effects.  I found them most convenient when I needed discrete but continuous medicating, say at the office or while travelling.  Kiva uses a blend of indica and sativa strains in their edibles, creating a hybrid, full effect high to meet a range of patient needs.  
From the informative packaging and trusted consistency to the inventively dynamic sweet and tart flavor, Kiva has provided us with a top of the line edible with their Terra Bites line of products.  
For more information, visit the Kiva Confections website.